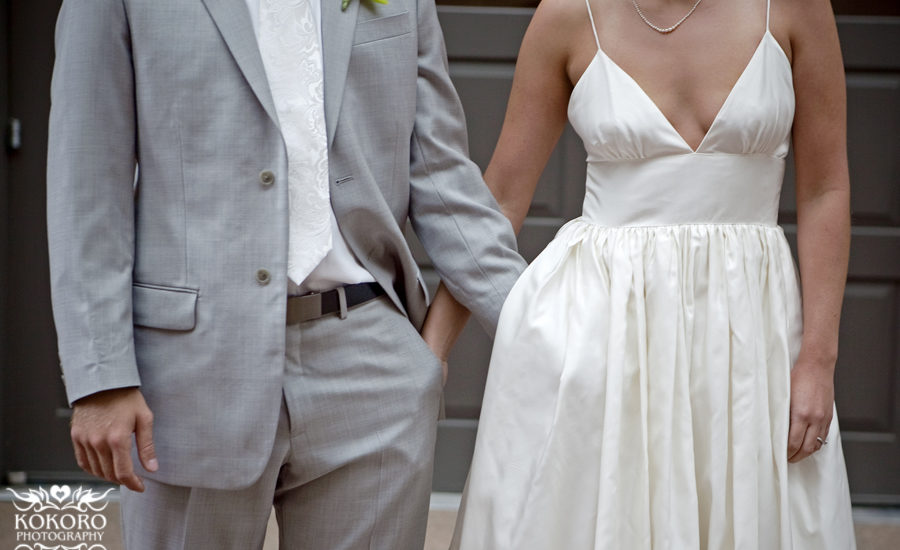 Whitney and Matt are an absolutely adorable couple. Both are athletic – which explains why their rehearsal dinner was a kickball game/picnic. They enjoy their friends and family immensely. They are practical with a sense of artistic flair…. but most of all they are very much in love which showed throughout their entire wedding day.
Whitney works at the Hotel Teatro which is where we met the wedding party. The Hotel Teatro (located across the street from the Denver Center from the Performing Arts) is a beautiful, romantic hotel decorated with costumes and photographs from past theater productions. This gave us plenty of opportunity for fun photography.


Whitney's wedding dress and the bridesmaids dresses were from J. Crew Wedding. Not only are they reasonably priced — but they also have pockets. (This is the practical part I mentioned) Every bride needs someplace to hide a tissue or lip gloss.
Whitney and Matt wanted to see each other before the ceremony so we could take photos at the Hotel Teatro before we left for the ceremony. We are always happy when our couples decide to do this as it make the time after the ceremony much less hectic.
The original plan was to head to Civic Center Park for formals but a hard rain prevented us from leaving. Fortunately, the Teatro has many beautiful spots for photography.
Matt and Whitney allowed for plenty of time for us to take photos around the hotel and across the street at Kevin Taylor's at the Opera House where the ceremony was held.
Fun with old theatrical prints!
Across the street in the Ellie Calkins Opera House.
The ceremony was held downstairs in Kevin Taylor's restaurant.
Whitney's one request was to get photos taken across the street in front of the yellow wall. Luckily the rain had let up by then!
After the reception Whitney and Matt reserved The Living Room for their guest. They hired a bus service to shuttled their guest making the evening a relaxed time for everyone.