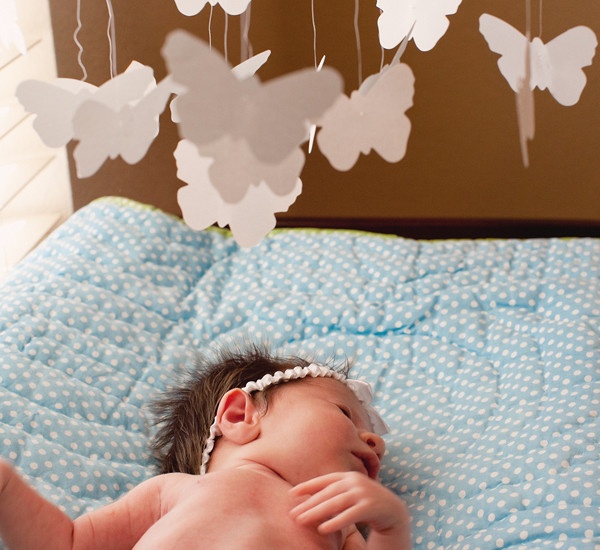 One of our favorite things is watching our wedding couples become families. It seems like such a natural thing to add a little one, but a new life is also such a miracle.
On September 8, 2007 Lindsy and Ryan were married in a beautiful ceremony at the Club at Pradera. This April they added Miss Clara to their family. Clara is adorable, teeny-tiny toes and a head full of hair that has a style all of it's own. Lindsy and Ryan are such naturals at the parenting thing, very comfortable with whatever happened.


Aren't they a beautiful family.
Look at how tiny Clara's little toes are! Those are Lindsy's wedding rings with plenty of room to spare.
My biggest fear in photographing a diaperless baby on mom and dad's bed is the possibility of an accident. We made it through without a mishap (thank heavens!)  job well done Clara!
Quiet time with mom.
Look at her hair – When Amanda and I got to the house they'd just washed it so it was laying down nicely. Ryan told us to just watch what happened as it dried. Poof!
If I had to pick the images I love the most is would be these last two. There's something special about a daddy with his little girl. The look on Ryan's face, he's looking so lovingly at his beautiful new daughter. You know there is nothing in the world more important.
Congratulations Lindsy, Ryan and Clara we are so happy for all of you. Thank you for inviting us to capture this special moment in time.
Debi and Amanda