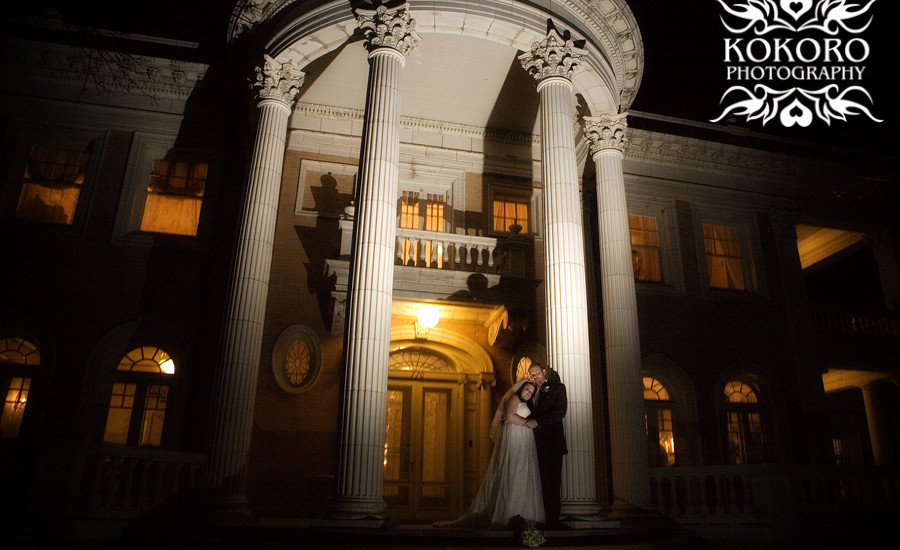 Stacey and Jason were married on the 17th down at the Grant-Humphreys Mansion. It's a beautiful location with lots of history, and we love photographing weddings there! I'm glad that the mayor's idea to trade the mansion for the mayoral residence, Cableland, was rejected by the state historical board– it'd be a shame to lose such a wonderful wedding venue!

Stacey was positively radiant that day- check out her freeking gorgeous eyes!
Flower Power did an awesome job with their flowers. Big, gorgeous peonies, and the perfect colors for the site!
We managed to catch the sun just as it was setting right before their ceremony.
It made for  a beautiful candlelit ceremony, but I'm sure glad that it was a nice enough day, even in the middle of January, to get some night pictures with the columns of the mansion.
Not that there's  a bad place to take pictures in the mansion!
Stacey and Jason finished out their reception with a great band, the Tripping Grizzwolds, who you can hear most every week at various places out in Parker. I'd highly recommend it- they were a blast! I've never heard Alanis Morrisette's "You Outta Know" sung with so much, uh, fervor, let alone sung at a wedding. But as one of the band member's told us, "the chicks seem to dig it."
-Amanda