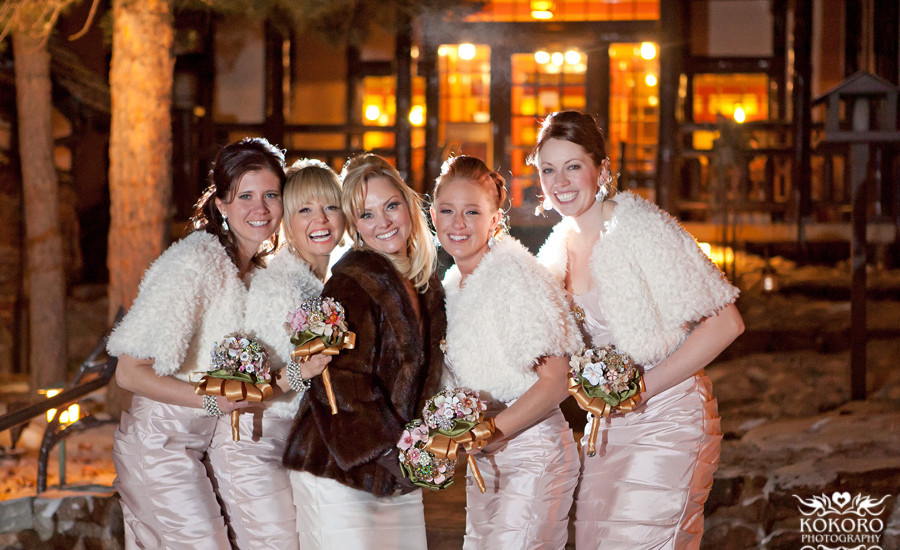 There's a lot of positive things to be said for photographing an interior decorators wedding! Tawndra had so many beautiful ideas. Amazing details from the table decor to the vintage broach bouquets she made for her bridesmaids and herself. Add to that the bride and groom are gorgeous, willing to try anything we suggested and the historic Boettcher Mansion such is a beautiful location …. we couldn't ask for anything more. This was a photographers dream!
Tawndra and Steve live in California, but Steve grew up here in Colorado. They brought all their CA friends out here for a weekend of skiing and Colorado adventures before the wedding. From the toasts given that evening the guests are truly devoted to this couple. After spending time with them, we understand why.


These are the bouquets Tawndra made with vintage broaches she found in antique stores and flea markets.
Each one was different but kept with the pink and gold theme of the wedding.
Vintage family jewelry, an important part of Tawndra's wedding attire.
First viewing – Tawndra and Steve decided to see each other before the ceremony so they could get formal photos taken before the ceremony.
The amazing florals were by Bella Fiori. Alicia Schwede designed beautiful, romantic tables to fit with Tawndra's theme.