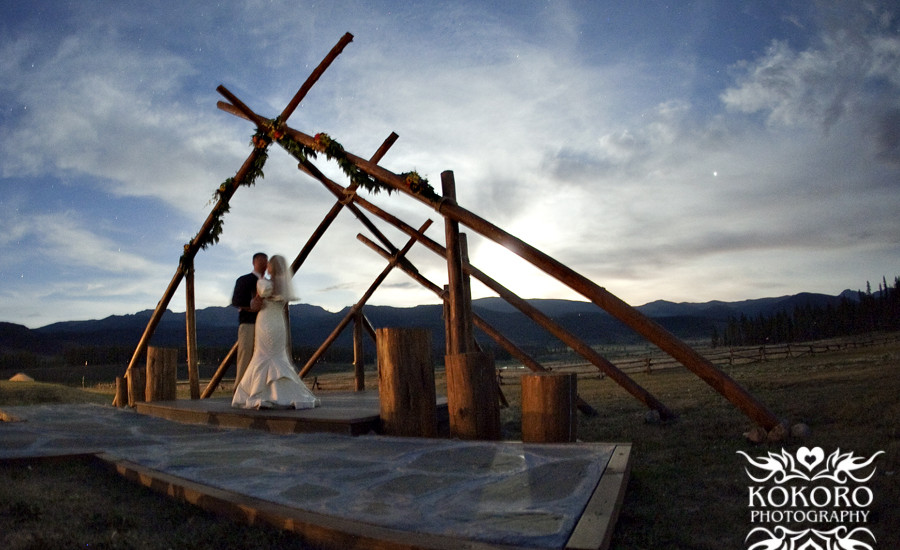 Devil's Thumb Ranch in Tabernash is always such a wonderful place to photograph a wedding. They have a true feeling of "Old West Colorado" there. The fields are lush with grasses, wandering livestock and wildlife, while the accommodations are elegantly rustic. You just can't go wrong with a Devil's Thumb wedding if what you're looking for is a Colorado feel – and that's exactly what Sue and Craig wanted.

We met Sue, their dogs and her bridesmaids at Sue's log cabin. They'd planned two hours for getting ready photos and photos of Sue in her dress. It was so nice to have that extra time and not feel rushed.
Craig and I took a stroll out to a field behind the lodge. The view of the back range is beautiful, making for a very dramatic backdrop.
Tommy, Craig's best man tied the rings around a shoe string so he wouldn't lose them.
One of the ring dogs…. they did a very good job, but really wanted to go hang out up front with Sue and Craig!
Sue was determined to get photos with the horses. It's a very brave woman who will tromp through muddy marshes in a Vera Wang dress to get the perfect shot!
"That 80's Band" played throughout the evening. No stuffy wedding songs here – we were ROCKING!