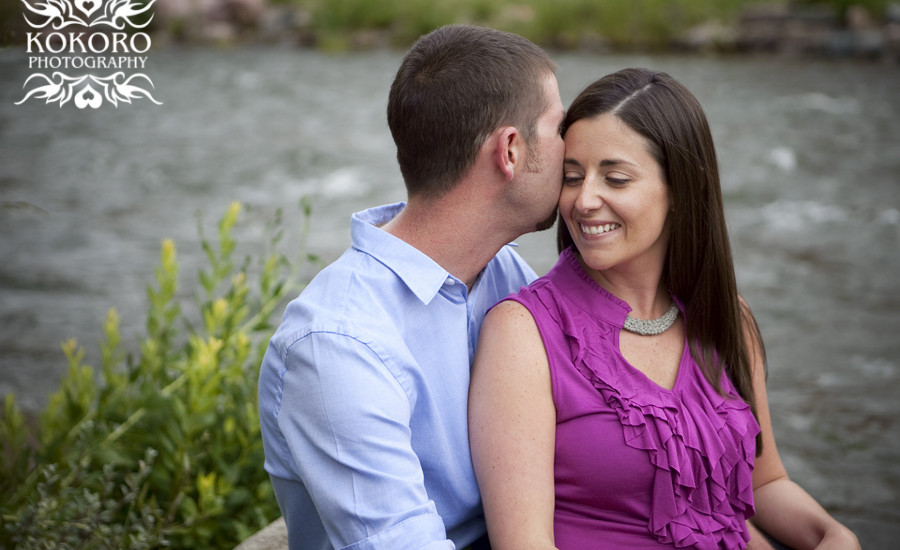 Before you all ask, yes, we have been crazy busy lately! I have 5 more blog posts to put up in the next few days, and we haven't even hit the two weddings we have this weekend. But busy is good, and we are tremendously blessed to have a job we love, wonderful people to work with, as well as a steady business.
We met Mindy and Justin recently down in old town Golden for their engagement shoot on the recommendation of another photographer friend of ours. We meet with a small group of photographers once a month to talk about the ins and outs of Colorado wedding photography, and we swapped shoot locale ideas last meeting. It's so nice to have new places to explore, and so far none of their suggestions has disappointed!
Mindy and Justin came to us through a coworker of hers, and when she asked to see a full wedding album of ours, I serendipitously sent her their neighbors' album! Small world! We loved getting to know Mindy and Justin, and we had a great shoot. It threatened to rain the entire time- that dark gray sky that makes you think, surely, it will open up any second now,  but we escaped unharmed and with lovely, even lighting. I think we scared Justin by starting the shoot next to a dumpster (sorry Justin!). Across the alley, however, was a great little garden, just tucked away.


One of the things I like most about Mindy and Justin is the little ways they show affection- hands, feet, proximity…
Mindy and Justin also attended rival colleges. Giving each other a hard time and betting on football games is part of what started their relationship, and I hear she still owes him a TV.  I hate to be a cynic, but if you're backing the Rams, you might want to bet smaller items. I'm sure my brother, a CSU grad, loves me for saying that ;).
Is there a better place to reminisce about college?
Thanks again you guys for a great time up in Golden, and we'll see you very soon!
-Amanda