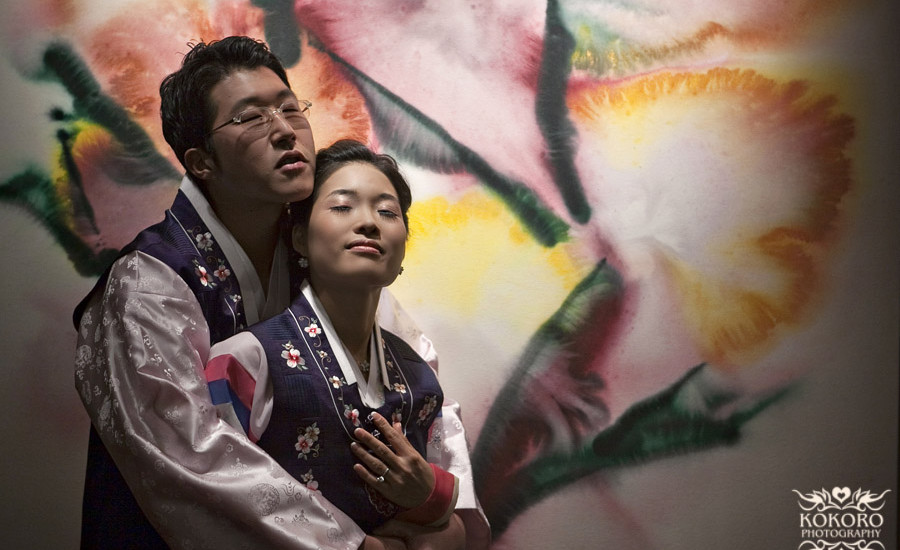 Jae Hee and Eugene's day started with photos of the two of them at the beautiful Magnolia Hotel in downtown Denver. They wanted something with a different feel from their engagement photos taken at the Botanic Gardens and because their wedding was going to be held at the Botanic Gardens as well something more sophisticated was in order. Kate Kelly at the Magnolia graciously offered us the use of their building which worked out perfectly.


After photos at the Magnolia we headed over to the Botanic Gardens. We had plenty of time for photos around the grounds before the ceremony began. The entire time keeping an eye on the dark clouds overhead hoping the rain would move on before the ceremony was to begin.
The ceremony began with their mothers lighting the unity candles.
This was the largest piece of cake we've ever seen shared – but it made for a wonderful photo!
After dinner Jea Hee and Eugene changed into traditional Korean hanboks for photos. By then the sky provided the most stunning Colorado sunset as our backdrop for the rest of the evening.
Catering by Design Contact: Brandi  Lipe
Crystal K Flower Contact: Crystal Kang
Magnolia Hotel Contact: Kate Kelly or Sid Stopper