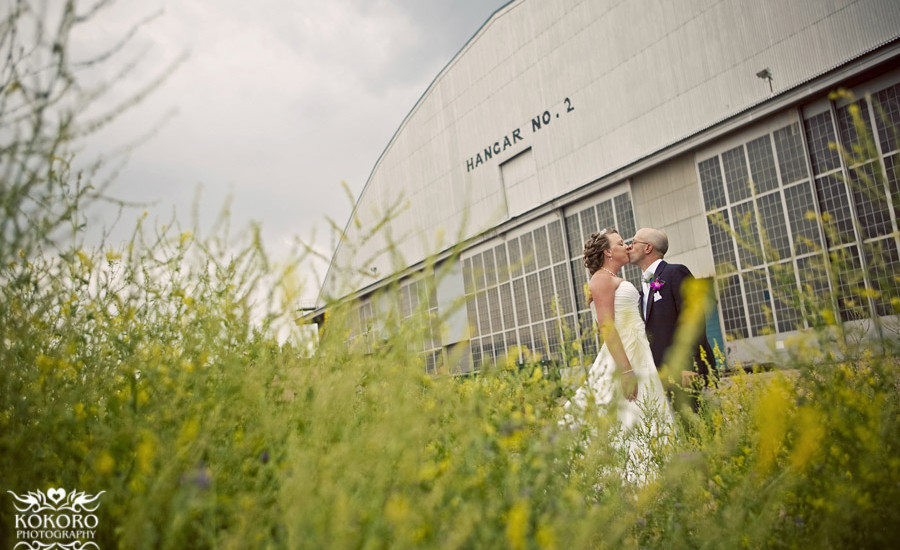 Everyone should be so relaxed on their wedding day. Jen and John were so happy to be getting married that every little thing was a joy or a moment to remember for them. The ceremony was at a little historic chapel in the old Lowery Air Force Base area. A beautiful white church with a tall white steeple that looked like something right out of a storybook.


A few days before the wedding Jen arranged for us to get into the Wings Over the Rockies building so we could spend time getting shots of her dress and important details. It was so nice to be able to spend time taking shots of her shoes and jewelry without rushing. We played with the planes and the things in the museum while setting up shots of shoes! The volunteers at the museum made suggestions and drug out a couple items we wouldn't have seen otherwise. It was great.
Love the rings – They used their fingerprints for the design on the outside of the bands.
Back to the wedding!
Jen and John opted to see each other before the wedding so we could take care of family formals ahead of time. This allowed everyone to head to the reception right after the ceremony so the party could begin.
The stunning floral arrangements are from Arthur at Babylon Floral. We are always excited to work with Arthur… his arrangements always amaze us.
We chose to walk to the Wings Over the Rockies hanger to take advantage of the flowers and architecture of the area for photos of John and Jen.
We found some great locations for fun and VERY original photos.
I couldn't tell you who this dance meant more to – Jen or her grandfather. It was only a brief dance but it was so very, very touching.
It was such a beautiful evening – much thanks to the following people: