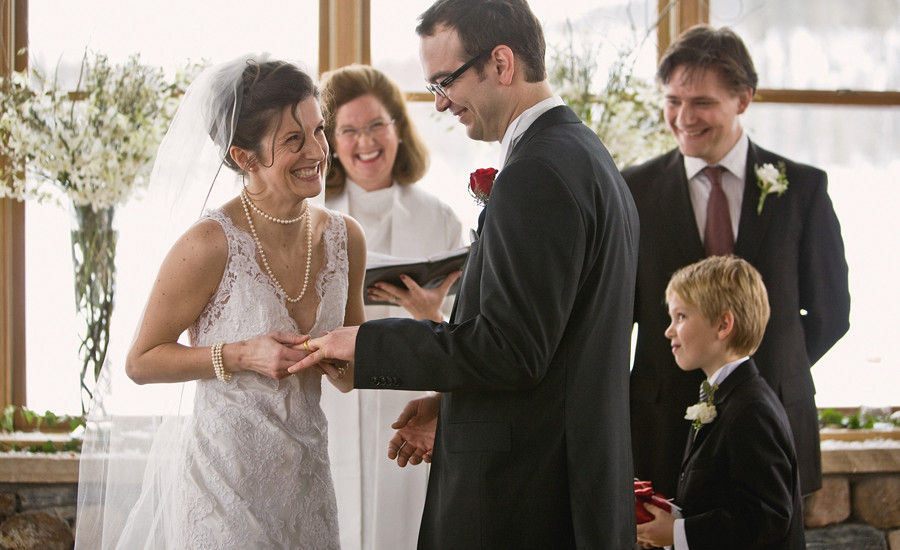 Question: If the couple comes all the way from Germany to get married, can we call it a destination wedding?
Anne, Henning and Henning's son Leo traveled all the way from Germany for their wedding. Anne grew up in the states and her family has owned a cabin in Winter Park for many years. So when they were deciding where to get married she wanted to share Colorado with her new extended German family. The area is gorgeous. Not just pretty… but the kind of place that takes your breath away. During the winter with all the fresh snow it's especially stunning. Located in Fraser Colorado, Devil's Thumb Ranch is a working ranch complete with pastures full of horses, adorable cabins and a rustic but lavish resort with all the comforts. They couldn't have picked a better place to get married.

Kara and Rami from Pick Me Wedding Coordination did a fabulous job of organizing the event. Not only did everything happen on time (which hardly ever happens) but the decorations and flowers were beautiful. Devil's Thumb Ranch has a small wedding chapel overlooking the Continental Divide giving Anne and Henning's guests a stunning view. As the ceremony was happening we could see a family taking a sleigh ride off in the distance. Truly winter in Colorado.
The reception was held in the Broad Axe Barn. Hennings only request for the evening was good food and I'm betting he wasn't disappointed. The musical entertainment for the evening was the Lonesome Ridge Blue Grass Band giving the German guests a real western experience. The evening was a joyful celebration of two families coming together.
It was -14 degrees at 9:00 Sunday morning — they are darn serious about the "Ice Box" label!
The view of Devil's Thumb Ranch from the road to the cabins.
Leo – won't he be a heart breaker when he grows up!
Leo took his job helping Dad get his cuff links in very serious .
The cabins
The first time Henning saw Anne in her dress. Isn't she beautiful!
Anne braved it without the coat for a few shots but it was so cold out we didn't want to freeze her.
The ceremony was read in English and in German so everyone could enjoy the vows.
Henning's ring wouldn't slide on easily.
Leo making sure everything is signed
The happy family
First dance