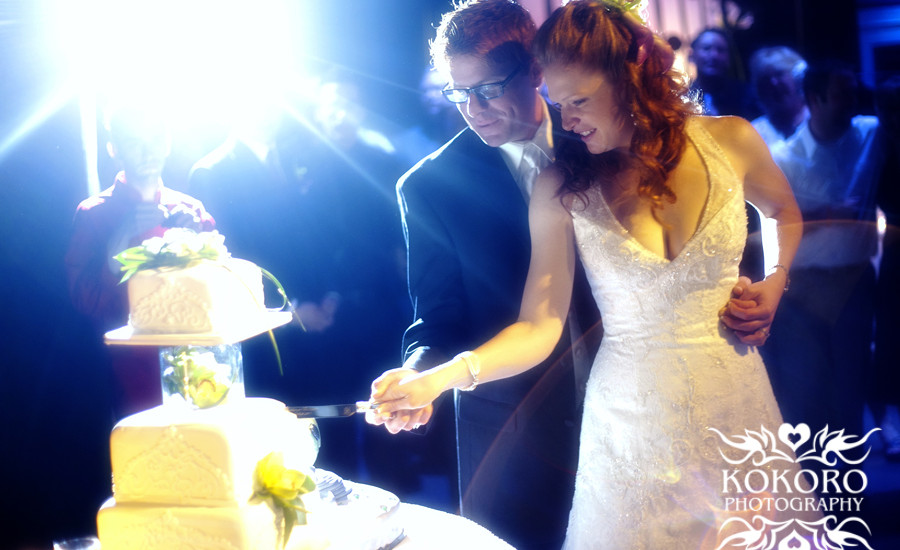 We have been looking forward to this wedding for some time now. Chris and Carly are two of the most wonderful people – happy, go with the flow and very much in love. After they interviewed with us last year, I told Amanda I'd be disappointed if they didn't hire us. Not only are they a great couple but both of them have beautiful red hair! There are very few of us redheads around so for Chris and Carly to have found each other I consider that to be a bit of magic.
A couple weeks ago we arranged with Carly and her mom Debbie to do Bridal and Boudoir photos at the Hotel Monaco. We won't be showing you those photos — they're special for Chris. 😉 But we had so much fun spending time with Carly and her mom.


Saturday was their wedding at the Exdo Center in downtown Denver. We met them down there on Wednesday to walk through the building. At the time things were being set up. Chris and Mike (Carly's dad)  had made a beautiful canopy with a glass top lined with candles for them to stand under during the ceremony. There was still a lot of work to be done but you could see the possibilities.
To look at the Exdo Center from the outside you'd have a hard time imagining a wedding there. It's a warehouse type building – but on Saturday the inside was transformed. The wedding ceremony site was perfectly lit for a romantic ceremony, an area set up for the cocktail hour hosted blue lighting, clear coffee tables with gold fish swimming around inside, and plenty of lounge seating for guest. On the other side of the curtains was the dining areas decorated in blues and purples, each table set beautifully and lit dramatically for impact. It was hard to believe just a couple days before it looked like a warehouse!
I really wished we'd taken some "before" photos so we could show you the difference!
One of the best things Chris and Carly did was to plan for plenty of extra time. I had half an hour dedicated to nothing but photos of Chris – which never happens! On my way to the Exdo Center I needed to detour around a car accident. The little side trip lead me to a wonderful wall mural and graffiti that said "I Love You." With the time set aside for just Chris' photos we were able to jump in my car and get some fun shots of just the groom.
and the groomsmen
Meanwhile, Amanda was with Carly and her bridesmaids near by at the Hotel Monaco.
The wedding ceremony was beautiful. Chris was so handsome waiting for Carly at the alter he'd made for their ceremony. The pride on Mike's face as he walked Carly down the aisle was evident.  Tears of joy were shed — as well as tears for family members who recently passed.
After the ceremony we took the bridal party outside for some fun urban photos.
and then a few of just Chris and Carly alone.
Chris and Carly entered into their first dance and then dinner was served.
My favorite part of the evening was watching Carly's grandparents. They've been married for over 60 years. Just a few minutes before the anniversary dance began they were kissing on the dance floor. It's so touching to see that 60 years later there are still romantic moments like this!
So Chris and Carly, our wish for you is that there are 60+ years of romantic moments for you as well.
Thank you for sharing you special day with us – Debi and Amanda Tipton
Here's a slide show of more photos: