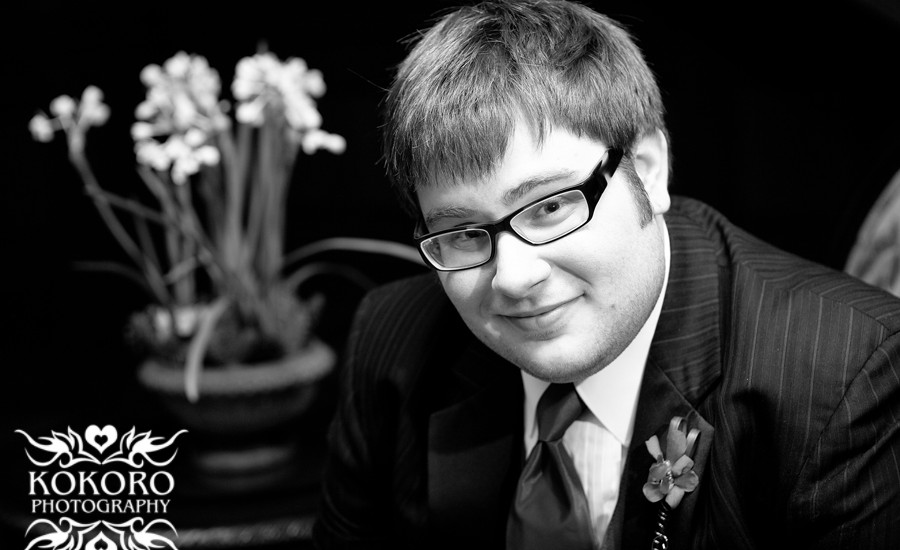 Happy Super Bowl Sunday! I don't have a lot of time today as I'm rushing off to my parents for the big game, but I did want to share with you all Lindsey and Aaron's wedding! Lindey and Aaron were married just last week at the Cherry Hills Community Church chapel. It's a beautiful chapel, built specifically for weddings and funerals, and it has some of the most impressive stained glass I've ever seen in a modern church. It also had a wonderful, big area for Lindsey and the ladies to get ready. The flower girl and ring bearer both loved vamping for the camera, and they inspired some girls to play along.


The ring bearer was a non-traditional decision to have Lindsey's young cousin carry the family bible with the rings tied on to a single rose. Unfortunately, the little girl couldn't untie the rings from the rose during the ceremony, and the knot became taut. Luckily the best man was armed with a pocket knife! My grandfather, the boy scout troupe leader, would be proud!
Ruby red and copper may be my new favorite winter wedding color combination. Lindsey's bouquet had cirlique copper wires throughout that were just really different and fun.
Carisssa from Carrissa Beauty did a fabulous job with Lindsey's makeup!
Aaron's not too bad himself either ;).
Aaron's father presided over the ceremony, which was super sweet. When he went to announce them for the first time as husband and wife, he got a little choked up and blanked on his son's name for a second. Lindsey's grandfather walked her down the aisle.
The party continued over at The Lone Tree Golf Club.
Lindsey and Aaron both danced with their mothers…
….while their siblings had other ideas of what to do on the dance floor!
Thank you guys again, and enjoy the big game!
-Amanda